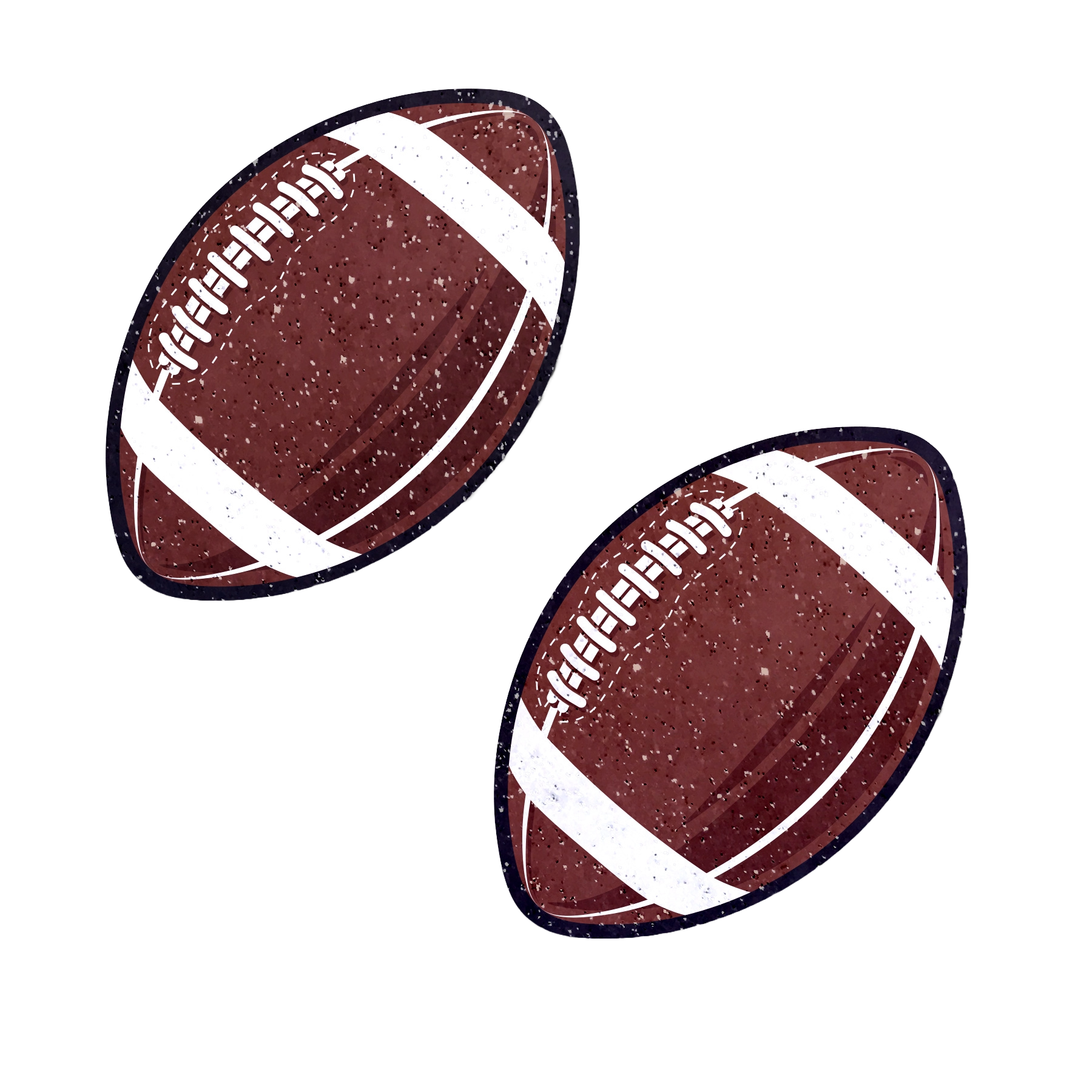 Football Pasties on Sparkly Velvet American Football Nipple Covers by Pastease
Elevate Your Game Day Spirit with Football Nipple Pasties by Pastease!
Get ready to score a fashion touchdown with our Football Pastease – an essential accessory that lets you flaunt your love for the game like never before. As you gear up to cheer on your favorite team, these nipple covers become your winning style statement, adding a playful twist to your game day ensemble.
Dimensions: 3.4" 2.2"
Coverage: 2.2"
Football Frenzy: Imagine the excitement of game day encapsulated in the form of these football-shaped nipple covers. The intricately printed design captures the essence of the sport, letting you become the #1 athletic supporter!
Glittering Velvet Brilliance: Crafted from sparkly glittering velvet, these breast covers add a touch of glamour to your football-inspired look, ensuring you shine both on and off the field.

Secure Comfort: Crafted with a hypoallergenic  adhesive, these covers ensure a secure and comfortable fit, so you can jump, cheer, and celebrate without any worries.
Versatile Fan Gear: These nipple pasties aren't just for game day – they're perfect for adding a touch of team spirit to your favorite sports events, watch parties, and themed gatherings.

Tailored Excellence: Express your love for the game and your team with Football Pastease, making a statement that's as bold and brilliant as your loyalty.
Gear up and let your team spirit shine with Football Pasties by Pastease. Whether you're at the stadium or hosting a game day party, these nipple covers are your ultimate accessory for sporting your football fervor in a unique and playful way. Elevate your style and join the ranks of the most stylish fans – get your Football Pastease today and score big on game day!
Worry free for every occassion SAFE FOR SKIN
All PASTEASE™ adhesive products are latex-free and leave the skin with no signs of irritation upon removal. MEDICAL-GRADE
At PASTEASE™, our products are hand-made, in house, with LOVE while using the highest-grade materials. WATERPROOF
Our PASTEASE™ brand pasties are waterproof and sweat resistant, keeping you worry free for any occassion.