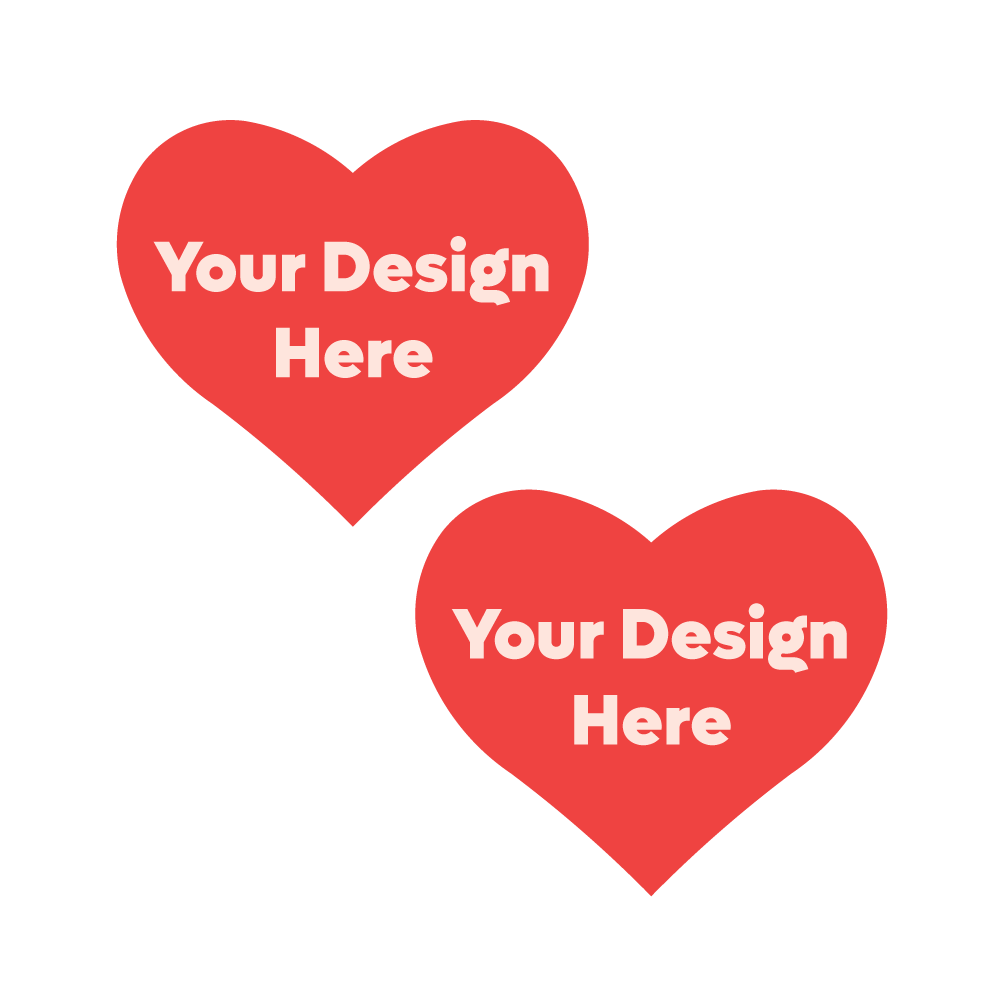 Custom Personalized & Promotional Pasties by Pastease® Design-Your-Own
Design Your Pastease
Select a shape.

Upload your graphics.

Pick a matte or glittery material. 
Need help with the design of your custom nipple cover stickers?

For a $40 setup fee, we can do it for you!  Email custom@pastease.com with your directions, a vector or 300dpi of your artwork and any other details and we will return virtual mockups for your consideration.
Availability
1 to 15 pairs of your custom nipple cover stickers will ship in 1 to 3 days. 22-50 pairs may take up to 5 days to ship. For all orders over 50 pair, these may take up to 3 weeks. Inquire for specific dates and timing! RUSH ORDERS available.
 *Inquire and notify us in Order Comments, at 805-646-1913 or office@pastease.com to coordinate for specific arrival dates.
Pricing
Quantity discounts will display in cart and at checkout.
Quantity discounts will apply accumulatively to your custom order if you upload multiple images and/or add multiple shapes to cart.
$24.95 ea. pair for 1-3 pair(s)
$20.00 ea. pair for 4-5 pairs
$15.00 ea. pair for 6-9 pairs
$11.25 ea. pair for 10-29 pairs
$8.44 ea. pair for 30-49 pairs
$6.12 ea. pair for 50-99 pairs
$5.10 ea. pair for 100-249 pairs
$4.74 ea. pair for 250-499 pairs
$4.51 ea. pair for 500-999 pairs
$4.42 ea. pair for 1000+ pairs
Details
For more advanced designers: Download PasteaseShapes.pdf
All Custom pasties sales are final.
We reserve the right to reject custom designs with content we feel is inappropriate or that should not be associated with the Pastease® brand.
For larger volumes, custom designs and custom packaging, please forward your custom nipple cover sticker requests to custom@pastease.com.
Worry free for every occassion SAFE FOR SKIN
All PASTEASE™ adhesive products are latex-free and leave the skin with no signs of irritation upon removal. MEDICAL-GRADE
At PASTEASE™, our products are hand-made, in house, with LOVE while using the highest-grade materials. WATERPROOF
Our PASTEASE™ brand pasties are waterproof and sweat resistant, keeping you worry free for any occassion.