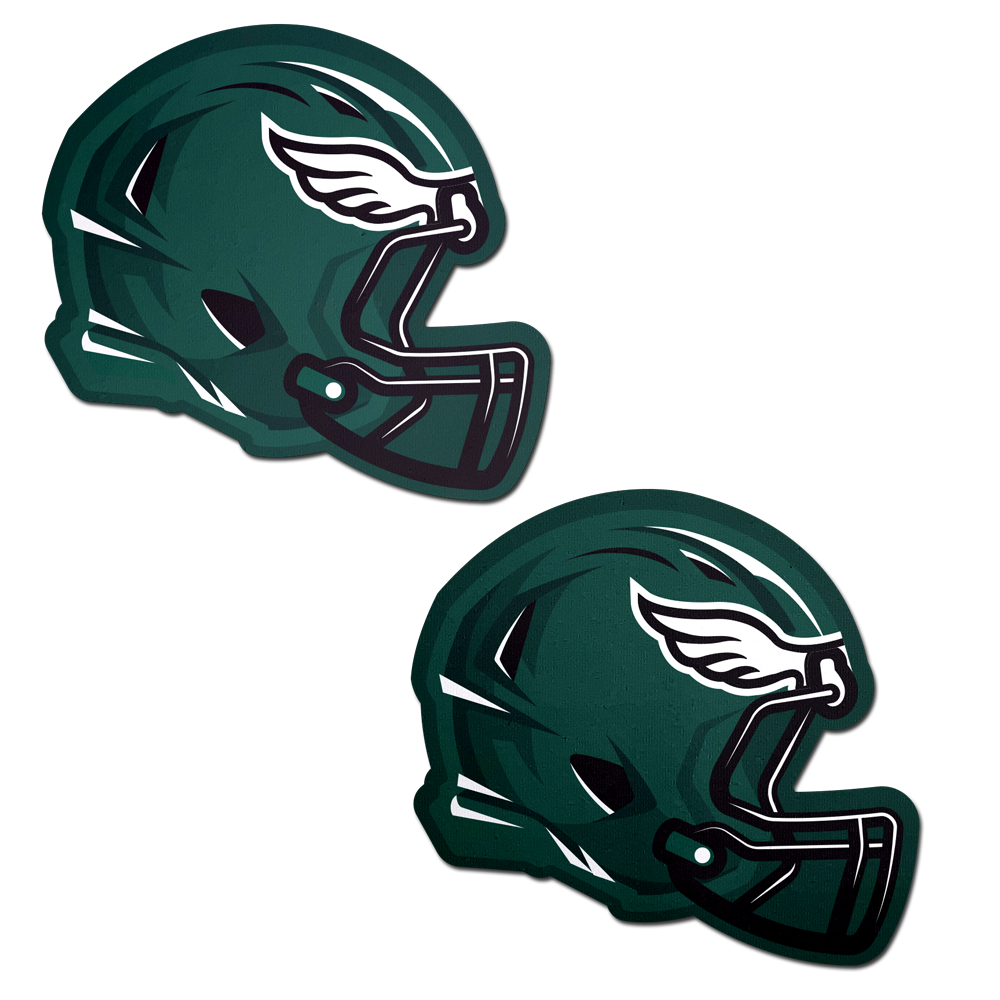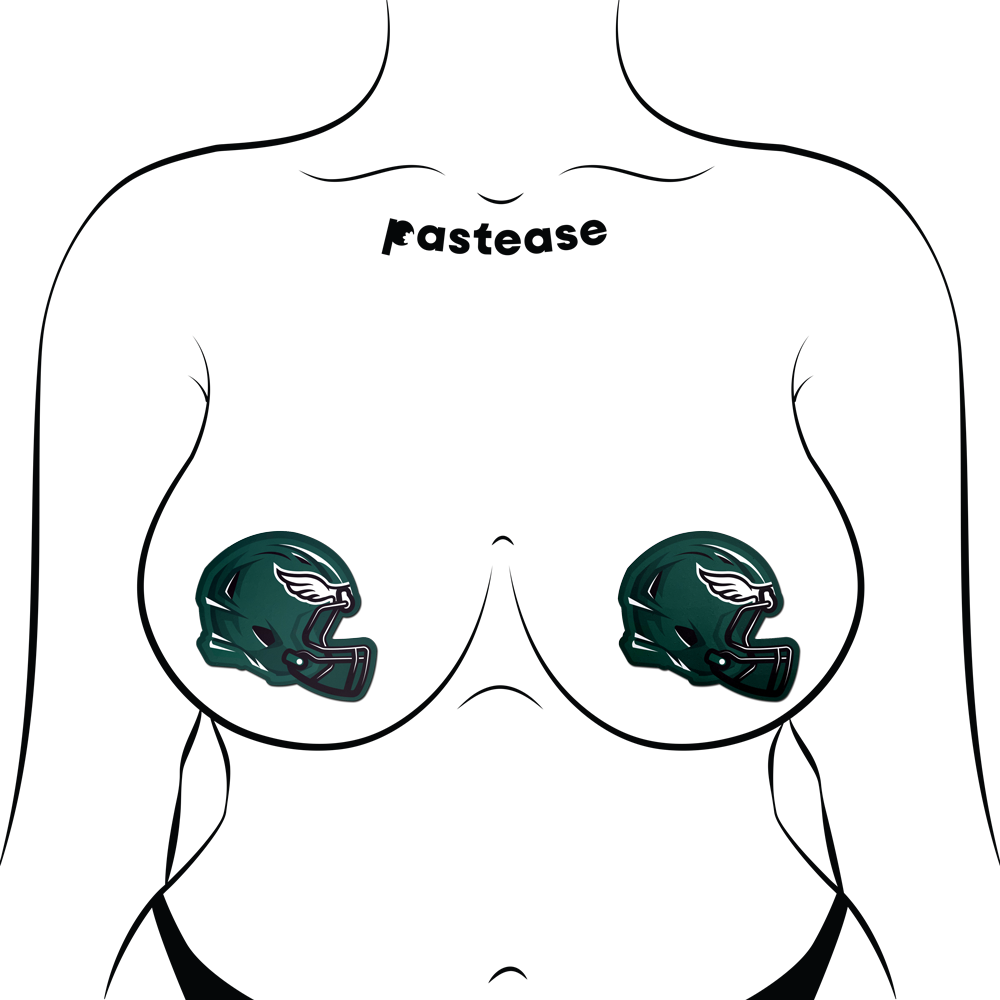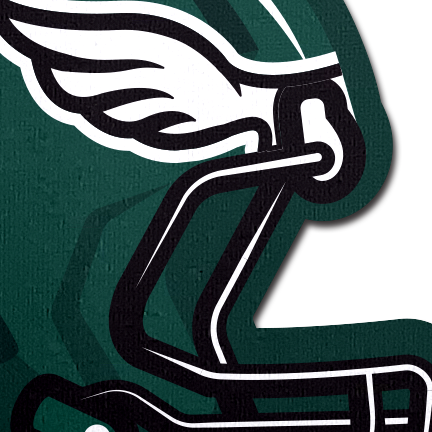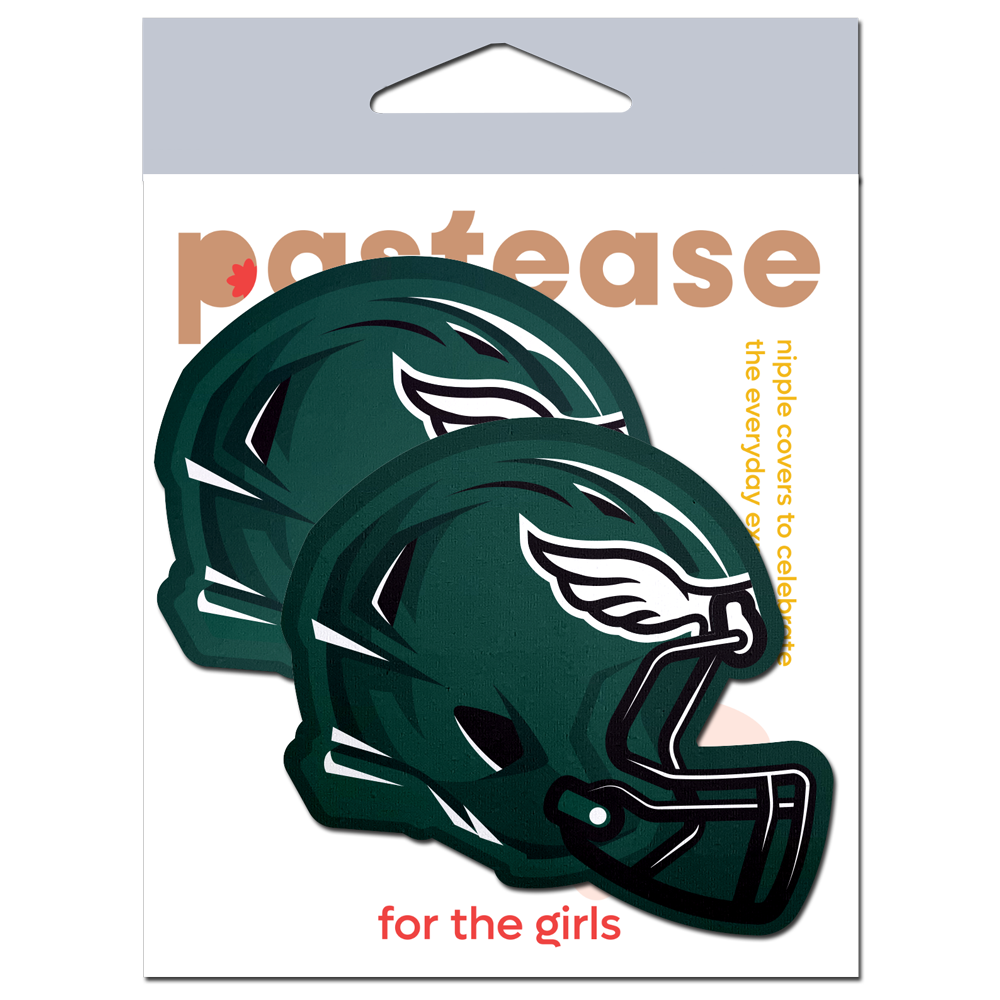 Helmet: Midnight Green & White American Football Helmet Pasties by Pastease
Elevate Your Game with Midnight Green and White Football Helmet Pastease Nipple Covers!
Are you ready to show off your team spirit in style? Our Midnight Green and White Football Helmet Pastease nipple covers are here to help you make a bold and empowering statement without saying a word. Inspired by the iconic colors of the Philadelphia Eagles NFL team, these nipple covers are the ultimate accessory for sports enthusiasts, game day celebrations, or anyone looking to express their inner champion.

Dimensions: 3" x 2.8"
Coverage: 2.2"
Team-Inspired Colors: These Pastease nipple covers feature the vibrant Midnight Green and White hues reminiscent of the Philadelphia Eagles, allowing you to proudly represent your team.
Football Helmet Design: Embrace the spirit of the game with our unique football helmet design that adds a playful and sporty touch to your look.

Comfortable & Secure: Crafted with skin-friendly materials, our Pastease are gentle on your skin and provide a secure fit, ensuring you stay focused on your game-day festivities.
Team Pride: Whether you're tailgating, attending a game, or watching from home, these nipple covers let you show your unwavering team pride and support.
Versatile Style: Perfect for game days, costume parties, or anytime you want to channel your inner bird and make a statement.
Comfortable Coverage: Our Pastease provide discreet and comfortable coverage while allowing you to express your individuality and team spirit.
Elevate your game-day attire with our Midnight Green and White Football Helmet Pastease Nipple Covers. Celebrate your team, express your passion for sports, and make a bold statement without uttering a word. Get ready to conquer the day with confidence and style. Get your Philadelphia Eagles-inspired Pastease today and let your team spirit shine!

Celebrate freedom worry free! SAFE FOR SKIN
All PASTEASE™ adhesive products are latex-free and leave the skin with no signs of irritation upon removal. MEDICAL-GRADE
At PASTEASE™, our products are hand-made, in house, with LOVE while using the highest-grade materials. WATERPROOF
Our PASTEASE™ brand pasties are waterproof and sweat resistant, keeping you worry free for any occassion.